Drama sobre la Iglesia de la Cienciología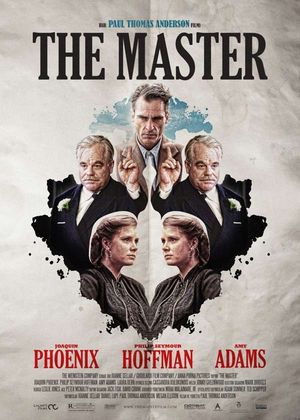 ¿Qué ves en el dibujo?
The Master
Título original
The Master
Nacionalidad
Estados Unidos de América
Año
2012
Género
Drama
Formato
Color
Duración
137
Director
Paul Thomas Anderson
Guión
Paul Thomas Anderson
Fotografía
Mihai Malaimare Jr.
Música
Jonny Greenwood
Producción
The Weinstein Company / Annapurna Pictures / Ghoulardi Film Company
Distribuidora
Alta Films
Reparto
Amy Adams, Joaquin Phoenix, Philip Seymour Hoffman, Rami Malek, Laura Dern, Jesse Plemons, Kevin J. O'Connor, W. Earl Brown, Lena Endre, Ambyr Childers, Jillian Bell, Darren Le Gallo
Sinopsis
Lancaster Dodd (Seymour Hoffman), un intelectual brillante y de fuertes convicciones, crea una organización religiosa que empieza a hacerse popular en Estados Unidos hacia 1952. Freddie Quell (Joaquin Phoenix), un joven vagabundo, se convertirá en la mano derecha de este líder religioso. Sin embargo, cuando la secta triunfa y consigue atraer a numerosos y fervientes seguidores, a Freddie le surgirán dudas.
Crítica

Puntuación
del crítico: 6

Como si se tratase de la escena en la que el psicólogo le enseña dibujos al personaje de Joaquin Phoenix y este solo ve sexo, me hice la misma pregunta cuando acabo la película y mi respuesta fue; 'No tengo ni idea', al igual que las de mis perplejos acompañantes, que quienes confusos de lo que acababan de ver abandonaban la sala insatisfechos.


'The Master' es una de las cintas de premios de la temporada, que al igual que me paso hace un año con 'El árbol de la vida', te deja con cara de póker, y con la pregunta de que ven los críticos en esta clase de cintas que tu no logras ver para ponerlas por las nubes. Si bien he podido seguir algo mejor el argumento que con la cinta de Terrence Malick, gracias a haberme leído antes la sinopsis y saber de qué iba el tema, ya que la cinta da explicaciones mínimas, aún así me sigue pareciendo deficiente en ritmo y diálogos, que me parece muy bien que los directores quieran experimentar y rallar al público con sus delirios, pero en esta ocasión no me agrado demasiado, haciendo a la película plomiza y aburrida.


Paul Thomas Anderson, consagrado director gracias a títulos como 'Magnolia', 'Boogie Nights' o 'There will be blood', nos cuenta el supuesto inicio de la "secta" de la cienciología, aunque no se llegue a mencionar en ningún momento en la película, pero se intuye, y nos deja un poco claro su opinión al respecto, ya que no se sabe si están más "locos" sus "médicos" o el pobre Freddy, que tendrá que someterse a una larga y totalmente falta de lógica terapia de choque para superar sus problemas. Hay escenas absurdas que solo pueden producir risa, y otras estupefacción al no encontrarles explicación.


Por otra parte alabar la gran interpretación de Amy Adams, Joaquin Phoenix y Philip Seymour Hoffman quienes son una gran razón para ver la película (y aguantarla), y a Laura Dern en un papel bastante secundario pero que siempre es un placer ver. También cuenta con una notable banda sonora, y alguna que otra escena lograda. He de reconocer que la cinta tiene cierto magnetismo que atrapa, y la intriga de saber cómo acabara la cosa o de si se aclararan tus dudas está ahí, y ciertas perversiones de Freddy la hacen algo digerible y divertida, pero si no te metes en su locura es muy seguro que abandones la sala o quites la cinta a mitad de película.
☠JACKY☠

Ficha de Película enviada por
Jack Skeleton
el 8 de Enero de 2013
video
visitantes