Se puede disfrazar de todo, incluso de ti.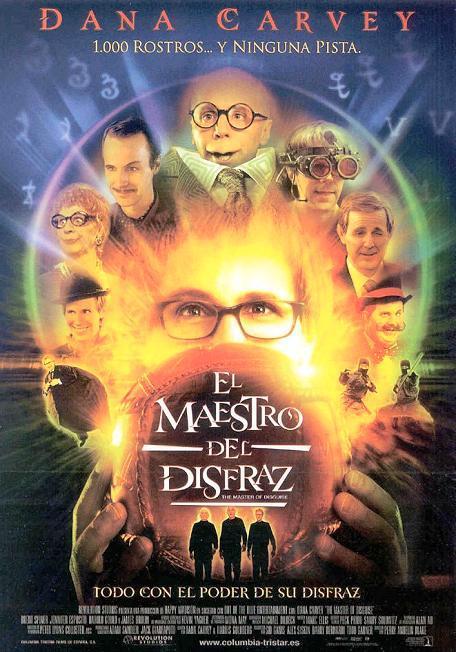 El Maestro del Disfraz
Título original
The master of disguise
Nacionalidad
Estados Unidos de América
Año
2002
Género
Comedia
Formato
Color
Duración
77
Director
Perry Andelin Blake
Guión
Dana Carvey, Harris Goldberg.
Fotografía
Peter Lyons Collister
Música
Marc Ellis
Producción
Revolution Studios
Distribuidora
Columbia Tristar Home Video
Reparto
Dana Carvey (Pistachio Disguisey), Jennifer Esposito (Jennifer Baker), Harold Gould (Abuelo Disguisey), Brent Spiner (Devlin Bowman), Edie McClurg (Señora Disguisey), Maria Canals (Sophia), Austin Wolff (Barney Baker), Jay Johnston (Rex), Robert Machray, Rachel Lederman, Jessica Simpson.
Sinopsis
Pistachio Disguisey es un maravilloso camarero en el restaurante italiano de su padre, Fabbrizio's, quien posee un asombroso don para la mímica. Lo que no sabe es que su talento es genético y que es el descendiente de un extenso linaje de "maestros del disfraz", los cuales han heredado un secreto don familiar conocido como "enérgico".

Haciendo uso de este poder, el padre de Pistachio puede instantáneamente pasar de ser una famosa estrella del pop, a convertirse en el mejor héroe deportivo de todos los tiempos, permitiéndole el paso a cualquier lugar prohibido. Tan mágica habilidad hace que Fabbrizio sea el blanco perfecto para su archienemigo Devlin Bowman, un diabólico cerebro del crimen que planea robar los tesoros más valiosos del mundo.

Cuando Fabbrizio y la mamá Disguisey desaparecen de repente, su hijo Pistachio se siente desolado. El abuelo Disguisey le enseña a Pistachio las técnicas de transformación "enérgico" con la ayuda de su guapa ayudante Jennifer. Al principio Pistachio es un patoso, pero poco a poco aprende a utilizar su poder y llega a hacerse un experto en la utilización de "enérgico", en un intento por entrar en la guarida de Devlin y rescatar a Fabbrizio y mamá Disguisey.
Crítica

Puntuación
del crítico: 5

Una disparatada comedia algo infantiloide pero que a mi se me hizo agradable de ver y tiene unos puntos muy buenos.
La película puede ser fácilmente comparable con las de Autin Powers, ya que su humor es estúpido, aunque a mi me gusto mas el de esta, y sus protagonistas son muy parecidos, y es que Mike Myers y Dana Carvey son los presentadores del famoso programa Americano "Saturday night live".

Aun me sigo riendo de ver a Dana Carvey vestido de tortuga con los labios encorvados y los ojos bizcos, es la leche.
La historia tiene su originalidad, aunque tampoco es algo nuevo, pero la cosa tiene su gracia.

No os perdáis las tomas de los créditos finales, duran 10 minutos, y no me extraña porque sino la película se quedaría demasiado corta.

Yo me lo pase genial viéndola, Dana Carvey es la caña y el malvado pedorro es una estupidez pero me soltaba la carcajada.
Chema
Ficha de Película enviada por
Jack Skeleton
el 9 de Abril de 2005
video
visitantes