Sera la ultima pelicula que alquilaras.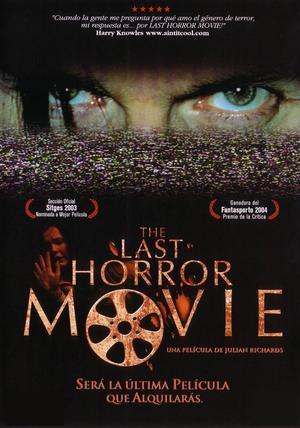 Esto es el nuevo cine de terror y puede que no salgas vivo.|Esto es el nuevo cine de terror y puede que no salgas vivo.
The last horror movie
Título original
The last horror movie
Nacionalidad
Reino Unido
Año
2003
Género
Documental · Suspense · Terror
Formato
Color
Duración
80
Director
Julian Richards
Guión
James Andel
Fotografía
Chris StJohn-Smith
Música
Simon Lambros
Producción
Zorana Piggot; Prolific Films, Snakehair Productions, MTNMovies
Reparto
Kevin Howarth (Max), Mark Stevenson (Ayudante), Antonia Beamish (Petra), Christabel Muir (Sam), Jonathan Coote (John), Rita Davies (Abuela), Joe Morley (Ben), Jamie Langthorne (Nico), Jim Bywater (Bill), John Berlyne (Phil), Mandy Gordon (Sarah)
Sinopsis
La radio anuncia que un peligroso psicópata se ha fugado de una prisión de máxima seguridad mientras una joven camarera se dispone a cerrar el restaurante en el que trabaja para volver a casa. De repente, un hombre enmascarado aparece de la nada y comienza a apuñalarla brutalmente. ¿Hartos de la misma peli de terror de siempre? Pues eso mismo parece pensar Max Parry, un asesino en serie de Londres que ha decidido filmar todos los asesinatos que comete para mostrar al mundo la verdad sobre su gremio en la película de terror definitiva. Lo que comienza siendo el típico film de matanza de adolescente se acaba convirtiendo en un perturbador viaje a través de la mente criminal de Max, un cordial fotógrafo de bodas con un gusto por la carne humana.


PREMIOS: B.Aires Rojo Sangre FF (Mejor film; Mejor actor); 2004 NY Horror FF (Mejor film; Mejor actor); 2004 Rhode Island Horror FF (Mejor director); 2004 Eerie Horror FF (Mejor film; Mejor director; Mejor actor); 2004 Fantasporto (Premio de la crítica)
Crítica

Puntuación
del crítico: 8

Pelicula con una gran idea que trata de innovar en el cine de terror pero que llega por momentos a aburrir al espectador, aun asi no os la debeis perder ya que es diferente a todas las pelis de terror que hayais visto hasta el momento, os recomiendo su obligado visionado y asi poder opinar, puede que no os guste pero al menos viene con aires frescos, ya que estados unidos solo se limita a repetir pelis una tras otra, este director intenta hacer algo nuevo y lo consigue, sobre todo al final cuando TU, si TU, se te pondran los pelos de punta cuando te des cuenta que deberas intervenir en la pelicula y Max Parry te de la sorpresa final.

Os aconsejo que no la veais solos ya que esa noche dudo que podais dormir.
Frankie Machine
video
visitantes