Existe evidencia que sugiere que los niños son altamente susceptibles a fenómenos paranormales. Pueden ver lo que los adultos no pueden. Creen en lo que los adultos niegan. Y están tratando de advertirnos.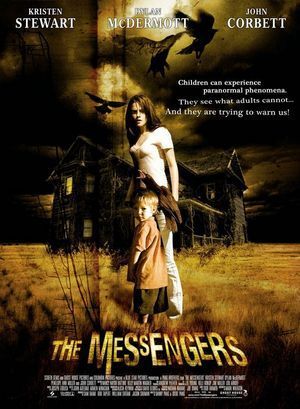 The Messengers
Título original
The Messengers
Nacionalidad
Estados Unidos de América
Año
2007
Género
Suspense · Terror
Formato
Color
Duración
84
Director
Oxide Pang, Danny Pang
Guión
Mark Wheaton
Fotografía
David Geddes
Música
Joseph LoDuca
Producción
Columbia Pictures
Reparto
Kristen Stewart (Jess Solomon), Dylan McDermott (Roy Solomon), Penelope Ann Miller (Denise Solomon), John Corbett (John Burwell), Evan Turner, Theodore Turner, William B. Davis, Brent Briscoe, Dustin Milligan, Jodelle Ferland
Sinopsis
La familia Solomon abandona la trepidante vida de Chicago por el apartado mundo de una granja en Dakota del Norte. En medio del suave vaivén del campo de girasoles de la granja, Jess (Kristen Stewart), de 16 años, se da cuenta de hasta qué punto el aislamiento puede ser terrorífico cuando ella y su hermano Ben, de 3 años, comienzan a ver siniestras apariciones, invisibles para todos los demás. Cuando estos espectros se tornan violentos, se cuestiona la salud mental de Jess, una amenaza doble para la atormentada joven. Su pasado problemático se topa de frente con el pasado de los que antaño vivieron en la casa, una peligrosa confrontación que deja su credibilidad en duda para aquellos a los que ella intenta advertir desesperadamente antes de que sea demasiado tarde.
Crítica

Puntuación
del crítico: 6

Buen debút de los hermanos Pang en Hollywood, quienes se hicierón famosos gracias a la escalofriante "The Eye" la cual ya se esta haciendo un remake americano con la penosa actriz Jessica Alba de protagonista, que asco.
"The Messengers" no nos ofrece nada novedoso, pero la he disfrutado bastante, mantiene muy bien el suspense durante todo el film y tiene algún susto que te hará saltar de la butaca, lo que no me gusta tanto aqui como en "The Eye" es el abusivo uso de música alta, así como no va a crear tensión si te ponen la música a 100 durante un buen rato y en varias escenas, creo que no deberian de abusar tanto de eso en sus proximos films.

La premicia es muy típica, una familia Americana que quiere huir de la estresante ciudad de Chicago se mudan a una casa en medio de ninguna parte, donde los dos hijos comenzarán a ver sombras escalofriantes que pronto se volverán amenazantes, la película contiene escenas muy buenas de apariciones fantasmales tán típicas como logradas en las producciones de terror Orientales, aunque para eso los personajes son un poco estupidos y se tengan que meter donde nadie se meteria.

Las actuaciones en general están aceptables, Kristen Stewart es una actriz muy joven y prometedora, me gusto mucho cuando la vi con Jodie Foster en "La habitación del pánico", espero que siga así de bien, el niño pequeño pues no se hace demasiado pesado y es simpatico y los padres cumplen aunque ese drama familiar se nota demasiado forzado.

El final, aunque no me lo esperaba es como... mmm, esto ya lo he visto antes.

En definitiva, "The Messengers" es una interesante mezcla entre "El grito", "La Morada del Miedo" y "Los Pajaros" que hará las delicias de los fans de este tipo de películas, aunque no es una ninguna maravilla y es previsible, se deja ver y pasarás un buen rato... o malo.
Chema
Ficha de Película enviada por
Jack Skeleton
el 24 de Febrero de 2007
video
visitantes