Una alambrada separaba su amistad.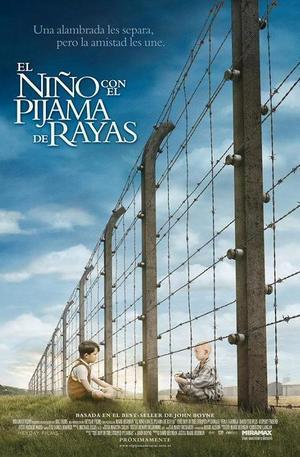 El Niño con el Pijama de Rayas
Título original
The boy in the striped pyjamas
Nacionalidad
Estados Unidos de América · Reino Unido
Año
2008
Género
Drama
Formato
Color
Duración
96
Director
Mark Herman
Guión
John Boyne, Mark Herman
Fotografía
Benoît Delhomme
Música
James Horner
Producción
Heyday Films
Distribuidora
Miramax
Reparto
Asa Butterfield (Bruno), Vera Farmiga (la madre), David Thewlis (el padre), Jack Scanlon (Shmuel), Amber Beattie (Gretel), Richard Johnson (el abuelo), Shelia Hancock (la abuela), Rupert Friend (teniente Kotler), David Hayman (Pavel), Jim Norton (Herr Liszt), Cara Horgan (Maria)
Sinopsis
Berlín, 1942. Bruno (Asa Butterfield), de ocho años, es el hijo mimado de un oficial nazi. Al ascender a su padre, la familia se ve obligada a abandonar su confortable casa de Berlín y trasladarse a una zona aislada donde el solitario chico no tiene nada que hacer ni nadie con quien jugar. Muerto de aburrimiento y atraído por la curiosidad, Bruno hace caso omiso a lo que su madre le dice. No debe ir más allá del jardín bajo ninguna circunstancia. Pero el no le hace caso y se dirige hacia la 'granja' que ha vislumbrado en la distancia. Allí conoce a Shmuel, un chico de su edad que vive una extraña y paralela existencia al otro lado de una alambrada. El encuentro de Bruno con el chico del pijama de rayas le lleva a adentrarse de la forma más inocente en el mundo de adultos que les rodea.
Crítica

Puntuación
del crítico: 7

Acertada adaptación del Best-Seller de John Boyne con una cuidada fotografia y unas buenas interpretaciones, sin duda Vera Farmiga está deslumbrante y su personaje está mucho más perfilado y mejor desarrollado que en el libro.

Destacar también la preciosa banda sonora de uno de los mejores músicos James Horner, con unas baladas preciosas y que recuerdán mucho (yo diria que son casi identicas) a las que compuso para "Casa de arena y niebla" y "Una mente maravillosa".

Aunque se salte cosas del libro, muchas de ellas sin importancia la apatación diria que esta a la altura del libro, que aunque no sea una obra maestra si es un bonito relato con mucho de fábula y que la pueden ver perfectamente los niños, no porque la haya producido una de las productoras de Walt Disney si no porque el libro esta narrado desde la vista inocente de un niño, y en el film practicamente también pero obviamente enseñan más cosas y las dejan más a la vista.


A partir de aqui puede haber Spoilers con que si vas a ver el film no lo leas;
Las cosas que creo que el film ha mejorado respecto al libro, a parte del personaje de la madre, vuelvo a repetir que Vera Farmiga está impecable, creo que esta mejor resuelto algunas situaciones como las escapadas del niño a la alamabrada, aqui el niño se tiene que inventar excusas para poder ir a visitar a su querido amigo y para llegar a la alambrada tiene que ir por el jardin de atrás y saltar algunos obstaculos y la madre se preocupa de que el campo de concentración este cerca, mientras que en el libro la madre no le daba ninguna importancia y el niño se escapaba tranquilamente pareciendo que la valla estubiese pegada a la casa.

Y otro acierto es que la alambrada estubiese electrificada, en el libro no lo estaba y se podia levantar fácilmente, cosa que supogo que es más acertado pensar que estubiese electrificada y hubiese que escavar para pasar.
El final del film te deja sensación de desasosiego y mal estar, y auque con el libro solte lagrimillas y lo narraban con forma algo más detallada también me ha parecido bien que el film lo tomase de un manera más fria y la escena cuando están todos ya ahi dentro desnudos me impacto, aunque puede que sea porque ya me sabia la historia, pero el corazón se me quedo roto de todas maneras.

Fin del Spoiler

Si te gusto el libro no te decepcionará y si no te lo has leido te gustará, tampoco te esperes un film complejo ni una obra maestra ya que no lo pretende ser, si no contar una historia de una amistad entre dos niños en una de las guerras más terribles de la historia de la humanidad.
Chema
Ficha de Película enviada por
Jack Skeleton
el 27 de Septiembre de 2008
video
visitantes