La muerte de Superman!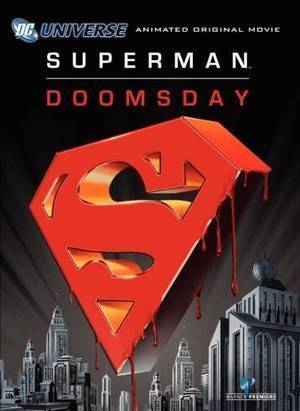 Superman: Doomsday
Título original
Superman: Doomsday (AKA The Death of Superman)
Nacionalidad
Estados Unidos de América
Año
2007
Género
Accion · Animacion · Aventuras
Formato
Color
Duración
75
Director
Bruce W. Timm, Lauren Montgomery, Brandon Vietti
Guión
Duane Capizzi, Bruce W. Timm
Música
Robert J. Kral
Producción
Warner Animation
Distribuidora
Warner
Reparto
Voces Adam Baldwin .(Clark Kent / Superman) , Anne Heche (Lois Lane) , James Marsters ( Lex Luthor ) , Swoosie Kurtz (Martha Kent, ) Ray Wise (Perry White), , Adam Wylie (Jimmy Olsen, ) John Di Maggio (Toyman),
Sinopsis
Cuando accidentalmente Lex Corp desentierra del fondo de la tierra al asesino intergaláctico Doomsday, Superman se enfrenta a la malvada criatura convirtiéndose en el desafío de su vida , despues de una brutal pelea, el hombre de acero logra derrotar al temible ser pero el tambien perece. El mundo entero llora la muerte de su héroe caído;tiempo despues el crimen se ha intensificado en Metropolis y durante un ataque del criminal Toyman es detenido sorpresivamente por Superman que al parecer ha vuelto a la vida y su regreso es festejado por todos pero Luisa Lane sospecha que el podria no ser el verdadero Superman y que Lex Luthor esta detras de todo esto. mientras algunas señales en la fortaleza de la Soledad indican que el verdadero Superman podria estar vivo.
Crítica

Puntuación
del crítico: 9

Fue justo a principios de los 90 cuando se lanzo una de las novelas graficas mas vendidas de todos los tiempos llamada La muerte de Superman (The Death of Superman) donde Superman moria a manos del monstruoso Doomsday y la narracion de los acontecimientos posteriores al suceso con la aparicion de varias versiones alternativas de superman y la resurreccion del hombre de acero. ya en el año 2007 la historia es retomada y adaptada en el film animado Superman: Doomsday que vendria a ser la primera cinta concebida por la DC animación.

el estilo de animacion es muy similar a la serie de los 90 ,aunque la historia no parece tener continuidad con esta , la historia es excelente en su primera mitad con la aparicion de Doomsday ,con muertes si no muy graficas ,si impactantes y violentas para ser un film animado. el combate contra el Hombre de acero es brutal y violento y a pesar de que Superman usa su fuerza al maximo , Doomsday le da una verdadera paliza incluso haciendo escupir sangre, hasta aqui los acontecimientos pueden ser similares a la novela grafica aunque no aparece la liga de la justicia como en el comic que combatia a Doomsday , despues del funeral de Superman la historia sufre un bajon de ritmo con todo y la aparicion del clon de Superman (que no son cuatro como en el comic) pero me gusto mucho la escena conmovedora donde Luisa Lane visita a la madre de Clark en Smalville y ya en el tramo final las cosas se encienden con la rebelion del clon de Superman y su combate con el resucitado hijo de Kripton que es de agradecer que se salga del tipico Superman Bueno vs Superman Malo (el traje negro del Verdadero Superman) y es bastante bueno aunque no tan dramatico como el combate con Doomsday.


Hay que decir que a pesar de algunos altibajos Superman:Doomsday cumple perfectamente y es un film animado excelente y bien hecho , no muy fiel al comic lo que puede causar decepcion pero aun asi vale mucho mas la pena que algunas cintas de Super Heroes en accion real. recomendable.
CHOOSE YOUR DESTINY
video
visitantes