Cuatro voluntarios para un peligroso programa especial. Un simple proceso de eliminación.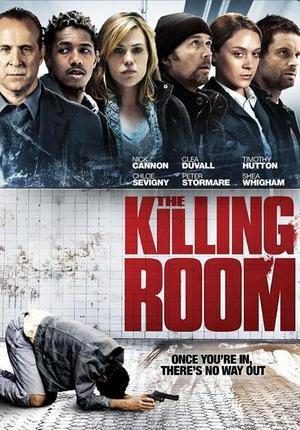 The Killing Room
Título original
The Killing Room
Nacionalidad
Estados Unidos de América
Año
2009
Género
Suspense
Formato
Color
Duración
93
Director
Jonathan Liebesman
Guión
Gus Krieger, Ann Peacock
Fotografía
Lukas Ettlin
Música
Brian Tyler
Producción
Eleven Eleven Films / Management 360
Reparto
Timothy Hutton, Peter Stormare, Chloë Sevigny, Nick Cannon, Shea Whigham, Clea Duvall, Bill Stinchcomb, Michael Byrnes, Luke Sexton, Tim J. Smith
Sinopsis
Necesitados de dinero rápido, un grupo de cuatro incautos se inscriben voluntariamente en lo que ellos creen que es un estudio de mercado pagado, para darse cuenta más tarde de que están siendo utilizados como conejillos de indias en un mortífero programa psicológico secreto del gobierno.
Crítica

Puntuación
del crítico: 5

Desde que Cube (y sus secuelas) pusiesen de moda las películas de experimentos ilegales con un ejercicio de seleccionamiento especial, no han parado de salir películas de este estilo, como la Alemana "El experimento", la inglesa "Exam", e incluso las españolas "El método" o "La habitación de Fermat", todas ellas con el pretexto de "inspiradas en hechos reales".


La película que nos ocupa tiene una idea inicial interesante, poco novedosa, pero que te mantiene con intriga hasta el final. La resolución final no es que sea mala, es más, la idea es bastante interesante y tiene alguna segunda lectura que da que pensar, pero acaba justo en la parte que debería de estar a mitad de película, y no sé si harán secuela, pero me quede con ganas de saber cómo sigue la cosa.


Las actuaciones, pues bueno, normales, ninguno destaca por encima del otro, tal vez el de Chloë Sevigny cuyo personaje es el más interesante y con el que vas descubriendo el pastel.

La peli no es gran cosa, me dejo con la sensación de que podría haber sido mejor, pero se deja ver.
Chema
Ficha de Película enviada por
Jack Skeleton
el 26 de Marzo de 2011
video
visitantes