Esta vez, es la lucha de sus vidas.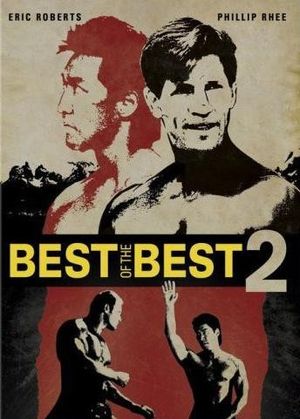 Campeón de campeones 2
Título original
Best of the Best 2
Nacionalidad
Estados Unidos de América
Año
1993
Género
Accion
Formato
Color
Duración
101
Director
Robert Radler
Guión
Max Strom, John Allen Nelson
Fotografía
Fred Tammes
Música
David Michael Frank
Producción
The Movie Group / Picture Securities / Twentieth Century-Fox Film Corporation
Reparto
Eric Roberts, Phillip Rhee, Chris Penn, Edan Gross, Ralf Moeller, Meg Foster, Sonny Landham, Wayne Newton, Betty Carvalho, Simon Rhee, Claire Stansfield, Hayward Nishioka
Sinopsis
Travis se mezcla en un circuito de peleas clandestinas donde el dinero es lo único que importa. A causa de esto Travis es asesinado delante del hijo de Alex Grady. Así que sus amigos Alex y Tommy se involucran en dichas peleas para vengar la muerte y así limpiar el honor de su amigo asesinado.
Crítica

Puntuación
del crítico: 5

Secuela que vuelve a dirigir Robert Radler y que no tuvo la misma acogida que la primera. La primera película tuvo buena acogida aunque se tacho de americanada y abuso de patriotismo, estoy de acuerdo, pero es ese tipo de películas que aún sabiendo todo eso te engancha, sabiendo que llegan a ser algo friky y hortera, te molan igual.

Bueno la película sigue siendo más de lo mismo pero ahora no es torneo legal, aparecen nuevos personajes y la trama cambia, tendremos mas acción que en la primera, de tiroteos y peleas. Se puede respirar ese aire ochentero que se agradece, aún así la película no me llego a gustar como la primera, para mí no es mejor ni peor que la primera, ya que considero que las dos son bastante malas pero la primera me gustó mucho en su tiempo, sí la revisara seguro cambiaría de parecer, quizás por eso ni me molesto en verla.

Hay otras dos partes más, dirigidas por el actor Phillip Rhee, ni me molesto en verlas ya que con el trailer una vez visto, no tiene nada que ver con las dos primeras, simplemente tienen el título para sacar tajada.
video
visitantes