¿Quieres compañia?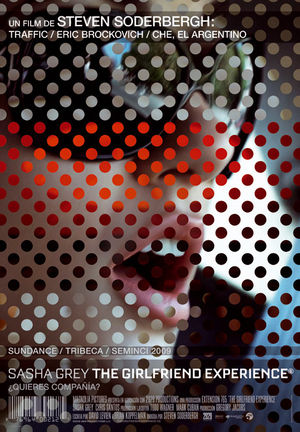 The Girlfriend Experience
Título original
The Girlfriend Experience
Nacionalidad
Estados Unidos de América
Año
2009
Género
Drama
Formato
Color
Duración
77
Director
Steven Soderbergh
Guión
Brian Koppelman, David Levien
Fotografía
Steven Soderbergh
Música
Ross Godfrey
Producción
Magnolia Pictures / 2929 Entertainment
Reparto
Sasha Grey, Chris Santos, Peter Zizzo, Timothy J. Cox, Kimberly Magness, Timothy Davis, Jeff Grossman, Ken Myers, Bridget Storm, Ted Jessup
Sinopsis
"The girlfriend experience" relata cinco días en la vida de Chelsea (interpretada por la estrella del porno Sasha Grey, en su debut en el cine convencional), una prostituta de lujo de Manhattan que ofrece a sus clientes algo más que sexo: compañía y conversación, "la experiencia de tener una novia". Chelsea cree que tiene su vida bajo control: piensa que su futuro está asegurado porque dirige su propio negocio, gana 2.000 dólares por hora y tiene un novio que la adora y acepta su estilo de vida. Pero cuando estás en el negocio de conocer gente, nunca sabes a quién te vas a encontrar.
Crítica

Puntuación
del crítico: 5

De nuevo nos encontramos ante un experimento cinematográfico de Soderbergh, rodada en 21 días y contando como actriz principal con Sasha Grey, que por lo visto es una actriz porno en la vida real.

La anterior película experimental que vi de Soderbergh fue "Full Frontal", una cinta con un reparto coral de rostros famosos un tanto aburrida, y esta sigue sus mismos pasos, y es que "The Girlfriend Experience", aunque tiene su interés, se hace bastante densa, con larguísimas secuencias en primer plano del rostro de Sasha Grey con cara, y perdonen la expresión, de putilla. Esto estaría justificado ya que se trata de una chica de compañía de lujo, pero es que la chica tiene menos expresión facial que una muñeca de cera, supongo que en las películas X que hace por lo menos se molestará en poner caras de placer, digo yo.


La película es fría, no despierta ningún tipo de emoción, al igual que la actriz principal, que no se entiende muy bien qué tipo de relación tiene con su novio, un entrenador de gimnasio cañón que le lame el culo, pero esta parece que pasa de su cara.

En fin, la cinta despierta cierto interés por retratar el mundo de la prostitución de lujo de una manera un tanto realista, pero podría haber llegado a más con un mejor guión y mejores actores.
Chema
Ficha de Película enviada por
Jack Skeleton
el 4 de Octubre de 2011
video
visitantes