No te portarás mal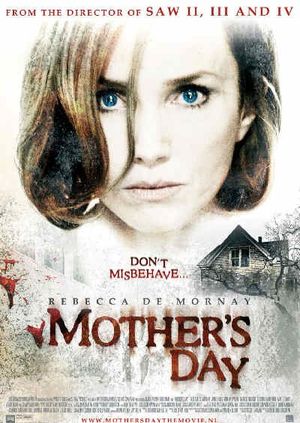 El día de la madre (2010)
Título original
Mother´s Day (2010)
Nacionalidad
Canadá
Año
2010
Género
Suspense · Terror
Formato
Color
Duración
108
Director
Darren Lynn Bousman
Guión
Charles Kaufman, Scott Milam
Fotografía
Joseph White
Música
Bobby Johnston
Producción
LightTower Entertainment
Reparto
Rebecca De Mornay, Jaime King, Shawn Ashmore, Frank Grillo, Matt O'Leary, Patrick Flueger, Alexa Vega, Deborah Ann Woll, A.J. Cook, Briana Evigan, Lyriq Bent, Lisa Marcos, Tony Nappo, Jessie Rusu, J. LaRose, Warren Kole
Sinopsis
Unos amigos pasan unos agradables días en la casa de uno de ellos, mientras asisten a las noticias de que se acerca un tornado. No saben que están en el peor lugar, en el peor momento: dos hermanos, violentos delincuentes llevan a su tercer hermano herido tras el robo a un banco a la casa, que pertenecía a su madre. Parece entonces que la situación puede explotar... hasta que llega mamá.
Crítica

Puntuación
del crítico: 7

Menuda agradable sorpresa ha sido este filme. Al menos, para mí, que escrito esta crítica. ¿Qué tenemos aquí? Pues a uno de los directores más prometedores en el panorama del género fantástico y de terror, y un remake de una de las películas más famosas de la Troma, aunque, para mi gusto, una de las peores al mismo tiempo.


Sí, otro remake, pero tranquilos, salvo la idea inicial que es un grupo de salvajes hermanos adoradores de su más psicopata madre, no tienen nada en común. Y mucho menos en calidad, porque estamos ante un señor thriller de tomo y lomo, lleno de tensión, suspense, violencia, sangre y alguna que otra tortura interesante.


Le tenía muchas ganas a la película, la verdad. Principalmente, porque la curiosidad morbosa que supone visionar un remake de un filme de la Troma es muy poderoso pero, especialmente, porque Darren Lynn Bousman es uno de mis directores a tener en cuenta desde la magnifica "Saw II" donde sorprendió regalandonos una secuela casi a la altura de la original. Y eso sin contar las otras secuelas que hizo, o la más que interesante y de culto "Repo: The genetic opera".


¿Y que nos encontramos? Pues con que tenemos a la madre, tenemos a los hijos, y poco más de la original. Tenemos entre manos uno de esos remakes que toman lo principal del material original, y lo recrean para hacer algo nuevo. Uno de esos remakes que mejoran la original, aunque en este caso era fácil, pero seamos sinceros, siempre se puede hacer peor en esto del cine, sobre todo si se trata de una producción tan de strangis como supone este "Mother´s Day".


La acción comienza pronto. Y es que, el ritmo de la película es una de sus mayores virtudes. Antes de que nos demos cuenta, ya ha acabado, dejando un reguero de cadaveres, torturas, sangre y violencia. Pero no de la gratuita, de eso nada. El suspense y el thriller campan por sus anchas para que no tengamos un torture porn más.


Se nos presentan a los personajes. Llegan los delincuentes y la felicidad se va al traste. Lejos de hacer el mismo thriller con criminales violentos de siempre, la verdadera historia comienza cuando llega la madre. Secretos, mentiras, infidelidades, dobles juegos, un dinero que no aparece, torturas para conseguirlo, dinero que conseguir para huir, amenazas, juegos entre los protagonistas, falsedades, etc, etc.


Y es que, los criminales en esta película no son los únicos malos. Poco a poco vamos viendo que los protagonistas no son hermanitas de la caridad. Lo peor es que no lo son... pero con ellos mismos, cuando deberían centrarse en quienes de verdad amenazan sus vidas, lo cual da para situaciones interesantes, tensas y, en especial diferentes a las que podríamos esperar. A eso le podemos unir que no sabemos quién puede morir y quién no; sí, algunos los tenemos claros, pero podemos llevarnos alguna que otra sorpresa, a veces desagradable, porque puede caer(o no) algún personaje que lo esté haciendo realmente bien.


Pero la joya de la corona del filme es la madre, interpretada magistralmente por una Rebecca De Mornay tremenda a su edad, malvada, siniestra y, sobre todo, psicopata. Borda el papel, pasando de ser tremendamente amable, cariñosa y comprensiva con los rehenes, a darselos a sus hijos para divertirse. Sólo por ella merece la pena ver la película.


Los demás actores hacen su trabajo sin más. Algunos mejores que otros (la pareja dueña de la casa, por ejemplo) pero la mayoría cumple. Cabe destacar que tenemos un buen puñado de caras más o menos famosas de la pantalla grande y pequeña; actores y actrices de esos que sabes que los has visto pero no consigues ubicar donde. Nos encontramos a Jamie King (Sin City), Frank Grillo (Prison Break), Matt O´Leary (Sentencia de Muerte), Alexa Vega (Repo: The genetic opera), Lyriq Bent (Saw IV), Deborah Ann Woll (True Blood), A. J. Cook (Mentes Criminales), Briana Evigan (Hermandad de sangre) entre otros y otras. Sin olvidar a Shawn Ashmore que, junto con su hermano, no puede faltar a ninguna cita con el terror y el fantástico.


También cabe destacar la cantidad de guiños que contiene hacia la original (algunas muertes, el cuento sobre la "Reina", el final sorprendente) y el tema de la maternidad de fondo, que explota al final del filme. Muy conseguido y muy apropiado, ya que le da otra visión al filme.

No todo es bueno, claro. Hay más de un agujero de guión, tiene un final algo soso en su conjunto (o no, según se mire) y, sobre todo, la extraña sensación de que ciertos momentos están demasiado forzados para que los protagonistas no salgan de la situación, porque en más de una escena podemos ver cómo pueden ser capaces de escapar, enfrentarse a sus captores, actuar, etc, etc... pero no lo hacen.


Resumiendo, estamos ante un remake de los buenos, uno de esos que superan a la original y que dejan el manido "Los remakes son todos malos" a la altura del betún. Tiene sus fallos, claro, pero sus virtudes son mejores y mayores. Le pondría más nota, pero me la reservo para un segundo visionado donde espero que me guste más o puede que un poco menos.
The Stranger
Ficha de Película enviada por
The Stranger
el 12 de Diciembre de 2011
video
visitantes