Del director de The Punisher.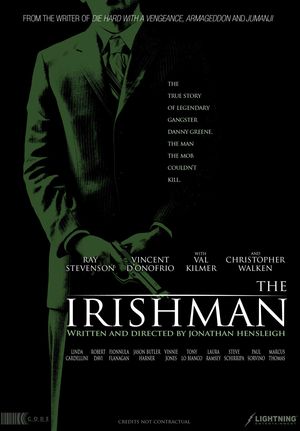 Mata al irlandés
Título original
Kill the Irishman
Nacionalidad
Estados Unidos de América
Año
2011
Género
Accion · Drama · Suspense
Formato
Color
Duración
102
Director
Jonathan Hensleigh
Guión
Jonathan Hensleigh, Jeremy Walters (Libro: Rick Porrello)
Fotografía
Karl Walter Lindenlaub
Música
Patrick Cassidy
Producción
Code Entertainment / Dundee Entertainment / Sweet William Productions
Reparto
Ray Stevenson, Val Kilmer, Christopher Walken, Linda Cardellini, Vinnie Jones, Vincent D'Onofrio, Laura Ramsey, Fionnula Flanagan, Paul Sorvino, Robert Davi, Bob Gunton, Steve Schirripa
Sinopsis
Danny Green es un gángster de origen irlandés, que, en los años 70, protagonizó los momentos más turbios de la ciudad de Cleveland. Su tendencia, desde niño, a meterse en toda clase de problemas lo marca para siempre y así se convertirá en una figura muy polémica dentro del mundo de la mafia. Él estará presente en todas las acciones por el control de la ciudad. Muchos querrán eliminarlo, pero no resultará tarea fácil.
Crítica

Puntuación
del crítico: 7

Jonathan Hensleigh nos trae una pelicula que llega directamente al dvd al menos en nuestro pais y que es mejor que su opera prima The Punisher, aunque tiene otra pelicula menos conocida que no he visto,Welcome to the Jungle.

Jonathan Hensleigh es mas conocido por sus guiones o adaptaciones de guiones, sus trabajos mas conocidos son Jumanji, El Santo, Duro de matar y Armagedon.

Ademas tenemos un gran reparto, el personaje principal es Danny Green interpretado a la perfeccion por Ray Stevenson, mas conocido por la serie Roma, The Punisher War Zone o su aparicion en Thor. Como secundarios de lujo tenemos a Christopher Walken y Val Kilmer que aunque no estan presente durante todo el metraje, la simple aparicion de ellos le da cache a la pelicula y un nivel actoral superior. Tambien tenemos otras caras menos conocidas, de esas caras solo se el nombre de Vinnie Jones. Bueno tambien se me olvidaba el compañero de Danny Green, Vincent D'Onofrio que aparece mas que los demas en el film.


Todo eso y una produccion mas que decente para una pelicula que va directa al videoclub, con buena fotografia, musica, direccion y sobrada de actuaciones, nos encontramos con un film de mafias donde el irlandes subira peldaño a peldaño con sudor y sangre, ganandose el respeto de unos y el odio de otros muchos.


Para los amantes del cine sobre mafias la recomiendo, pero no se equivoqueis, no os vais a encontrar con una pelicula como Casino, aunque se parezca a veces por la voz narrada.
video
visitantes