Repartiendo justicia con un cartucho para cada momento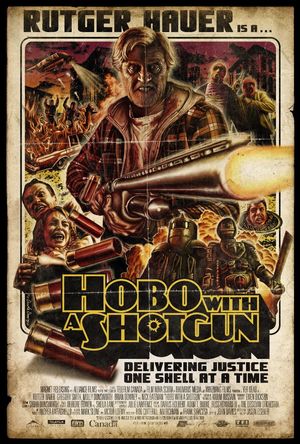 Hobo with a shotgun
Título original
Hobo with a shotgun
Nacionalidad
Estados Unidos de América
Año
2011
Género
Accion
Formato
Color
Duración
80
Director
Jason Eisener
Guión
John Davies, Jason Eisener, Rob Cotterill
Fotografía
Karim Hussain
Producción
Rhombus Media, Whizbang Films Inc
Reparto
Rutger Hauer, Molly Dunsworth, Brian Downey, Gregory Smith, Robb Wells, Mark A. Owen, Jeremy Akerman, Nick Bateman, Michael Ray Fox, David Brunt, John Awoods
Sinopsis
Un vagabundo, buscando un futuro mejor, llega a una ciudad dominada por el caos, la violencia y el crimen. Aunque decide seguir su camino, y ahorrar dinero para comprar una cortadora de cesped con la que salir de la misería, el crimen se cruza en su camino. Es cuando decide cambiar la paz por la violencia, comprar una escopeta y limpiar la calle de la autentica escoria.
Crítica

Puntuación
del crítico: 8

Hagamos memoria. Quentin Tarantino y Robert Rodriguez deciden realizar un curioso experimento para los cines. Pretenden recuperar el sabor de las peliculas pulp, de los filmes de los 70 y 80, de las sesiones dobles de películas de serie B incluso a veces Z y, para ello, crean el "evento" conocido como "Grindhouse" en el que estrenan, "Planet Terror" una fabula de zombis, y "Death Proof", con asesino en serie de jovencitas incluido. Además, organizan una serie de trailers falsos con el mismo tonto; muchos gustan tanto que de ellos se piden largometrajes.


Unos pocos años después, a raiz de esta experiencia gamberra entre los dos directores, y la lista de trailers, surge "Machete", basada en un trailer donde Danny Trejo, uno de esos maestros de la serie B, se convertía en el protagonista absoluto. Chicas, balas, sangre, violencia, explosiones, un protagonista propio de películas de otro tiempo… El filme, como las experiencias de Tarantino y Rodriguez, aglutina detractores y fans a partes iguales. Pero también tuvimos otros trailers que esperan ser convertidos en películas. También tuvimos "Hobo with a shotgun", un trailer que nos traía lo mejor de las películas de venganza y justicia de los 70 y 80. Ahora, tenemos el filme basado en ese trailer.


"Hobo with a shotgun" es una producción incalificable, gamberra, violenta, parodica, comiquera, con toques cartoon, con gore a mansalva, que camina entre los mejores productos de la Troma, y el "grindhouse" de Tarantino, Rodriguez y en el que usaron como base para crear sus propias películas. Es seria y cómica al mismo tiempo, con más contenido del que parece. Y, sobre todo, es una oda a las películas de os 70 y 80, al cine de Charles Bronson, protagonizada por un Rutger Hauer inconmensurable, que demuestra que, aún a su edad, se pueden partir caras, desparramar sesos y dar interpretaciones muy superiores a la media.


La historia, como no me cansaré de repetir, es muy de los 70 y 80. Un pacifico vagabundo que solo busca encontrar trabajo de jardinero, y cuyo sueño es tener una cortadora de cesped para ello, ve como le tocan demasiado las narices, se arma con una escopeta y crea su propia justicia, masacrando por doquier a todo criminal que se encuentra. No hay más; y no lo necesita. En absoluto. Y tenemos una gran película con eso.


La historia camina entre el tomarse en serio a sí misma, y no hacerlo. Y el director lo hace lo suficientemente bien como para que la mezcla funcione, y muy bien. Momentos como el final de uno de los criminales y cierto autobus, encadenados con otros como la muerte de alguien que roba unos periodicos (no daré más detalles porque son escenas para disfrutar) hacen que el humor negro se pasee por el film sin que por ello caiga en la parodia. No, tenemos entre manos una pelicula que tiene más de lo que se ve (y no hablo sólo de la critica social que contiene, que es evidente) pero al mismo tiempo divierte, entretiene, es gamberra, pero sin perder ese tono serio que aporta, especialmente, la interpretacion de Rutger Hauer, que contrasta la mar de bien con personajes como los hermanos criminales hijos de Drake, o La Plaga, que parecen sacados directamente de un cómic salvaje, como grandes villanos de la película.


Pero una historia no puede ser grande sin sus personajes. Todos son geniales; la dulce Abby (con una parte final estupenda), Drake, gran villano de la función, sobre todo en la parte final; sus hijos, de lo mejorcito de la pelicula; incluso los diferentes malos menores del filme tienen todos algo que destacar. Pero, por encima de todos están Hobo, el protagonista (que sin Hauer no sería lo mismo) y la Plaga; sin ellos la película no tendría la calidad que tiene, así de simple. El primero, gran antiheroe de la historia, con más dentro de lo que parece y los segundos, supervillanos violentos que esconden algo que solo se deja traslucir en forma de ciertas escenas que merece la pena ver por uno mismo.


En cuanto a los actores, todos están geniales para el filme que tenemos entre manos. Pero sin el gran Rutger Hauer "Hobo with a shotgun" no sería lo mismo. Él es el personaje, mantiene la estoicidad cuando es necesario y desata su furia contenida cuando se requiere, pero sin histrionismos. Un gran momento de la pelicula es su monologo en el hospital, con los recien nacidos, o cada vez que va a matar a un desgraciado. El actor levanta la mano para dejar claro que sigue en el panorama, que está desaprovechado y hace un grandioso homenaje a todos los antiheroes del cine.


Con respecto al resto de la película, pues tenemos sangre a borbotones, momentos dantescos, surrealistas (el instante tentaculos con La Plaga), mucha acción, momentos tiernos, emotivos, desarrollo de personajes, una fotografía que recurda mucho a las peliculas de los 70 y 80 (incluso a la reciente "Punisher 2: Zona de Guerra"), muertes brutales y muchos tiros de escopeta, por supuesto. Y una banda sonora genial, de principio a fin (atentos a la canción que aparece cuando se acerca cierto momento... fogoso).


La única pega es que es un filme dificil de ver. No todo el mundo sabrá disfrutarlo, pero si mantenemos la mete abierta o somos fans de este tipo de películas, sabremos captar la calidad que emana de ella (y que hay en escenas como la del final de cierto villano y el autobus).


En definitiva, una pequeña joyita que supera, y por mucho, a los intentos de Rodriguez y Tarantino. De obligado visionado (y sí, spin-off con La Plaga pero ahora mismo).
The Stranger
Ficha de Película enviada por
The Stranger
el 13 de Octubre de 2011
video
visitantes