¿Que te está siguiendo?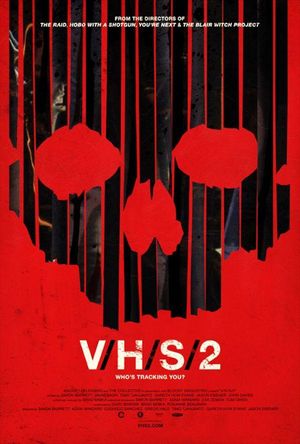 V/H/S 2
Título original
S-V/H/S (S - VHS) - V/H/S 2
Nacionalidad
Estados Unidos de América
Año
2013
Género
Ciencia-Ficcion · Suspense · Terror
Formato
Color
Duración
96
Director
Adam Wingard, Eduardo Sánchez, Gareth Evans, Timo Tjahjanto, Jason Eisener, etc...
Guión
Simon Barrett, Jamie Nash, Gareth Evans, John Davies, Jason Eisen, Timo Tjahjanto
Fotografía
Tarin Anderson, Stephen Scott, Seamus Tierney, Jeff Wheaton
Producción
Coproducción USA-Canadá-Indonesia; Pictureshow Productions
Reparto
Kelsy Abbott, L.C. Holt, Hannah Hughes, Lawrence Michael Levine, Adam Wingard
Sinopsis
Secuela de V/H/S (2012). Buscando a un estudiante desaparecido, dos investigadores privados irrumpen en su casa y encuentran una colección de cintas VHS. Cuando ven los horribles contenidos cada casete, se dan cuenta que puede haber motivos oscuros detrás de la desaparición del estudiante.
Crítica

Puntuación
del crítico: 7

La primera V/H/S la esperaba con ganas pero me decepciono, esta al ver su trailer me fascino y pensé que seria muy superior a la primera pero me equivoque, es mejor a medias. Es mucho más distraída y con historias más originales, pero su bajo presupuesto hace mucho daño.

Clinical Trials:

Un hombre que recibe un trasplante ocular comienza a ser acosado por fantasmas que solo puede ver con el implante.

Este segmento esta dirigido Adam Wingard, el director de la esperadísima 'Tú eres el siguiente' y que se estrenara en este verano. Bueno, pues la historia no esta mal pero el bajo presupuesto hace que el maquillaje de los fantasmas parezcan hechos por un niño, de todos modos entretiene y te puede dar algún sustillo.


A Ride in the Park:

Un hombre, el cual esta dando un paseo en bicicleta, se detiene en el camino porque cree ver a alguien herido, pero ese alguien es ni mas ni menos que un zombie. Luego de ser mordido se encuentra en medio de un frenesí zombie.

Este segundo metraje esta dirigido por Eduardo Sanchez (El proyecto de la bruja de blair) y Gregg Hale. Aquí vamos a encontrar algo mas de originalidad y podremos disfrutar de un ataque zombi desde el lado de los come cerebros, muy disfrutable.

Safe Haven:

Un grupo de documentalistas tratan de ganar el acceso a Paradise Gates, una colonia India que promueve la poligamia. Después de pasar por varias pruebas, los documentalistas logran conseguir una entrevista con El Padre, en el momento en que una masacre se desata en el lugar.

Dirigido por Gareth Evans (Redada Asesina) y Timo Tjahjanto (Macabre). Este es sin duda el mejor metraje, quizás tarde un poco en arrancar, ya que intenta mostrarnos algo a sus personajes y ponernos en situación, pero sin lugar a dudas es el mejor con mucha diferencia de toda la saga.

Alien Abduction Slumber Party:

Un grupo de adolescentes son testigos de la caída de una nave alienígena durante una fiesta. Este segmento es filmado por un perro.

Dirigido por Jason Eisener (Hobo with a Shogun). Aquí me lleve la gran decepción, no creo que sea el peor, pero de este director me esperaba algo mas, después de leer de que iba su historia. Quizás no tenga la culpa y sea por el bajo presupuesto que no se pueda disfrutar del todo, ya que los extraterrestres dan risa más que otra cosa.


Simon Barrett se encarga de enlazar toda la historia y bueno, su parte no esta mal del todo, mejor que en la primera cinta de la saga la verdad. Cumple su cometido.

Aun después de decepcionarme la primera V/H/S, esta segunda me a parecido interesante aunque no muy buena. Digamos que me gusta la idea pero por culpa del presupuesto no llega a complacerme del todo. De todos modos espero la tercera entrega si es que se animan.
video
visitantes