Espíanos. Nosotros te espiaremos.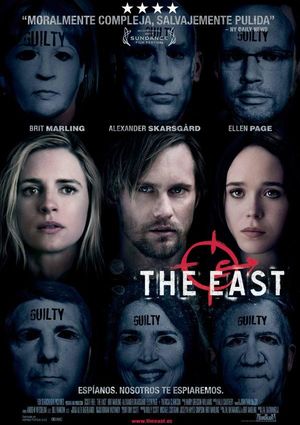 The East
Título original
The East
Nacionalidad
Estados Unidos de América
Año
2013
Género
Drama
Formato
Color
Duración
116
Director
Zal Batmanglij
Guión
Brit Marling, Zal Batmanglij
Fotografía
Roman Vasyanov
Música
Halli Cauthery, Harry Gregson-Williams
Producción
Fox Searchlight / Scott Free Productions
Reparto
Brit Marling, Alexander Skarsgård, Ellen Page, Toby Kebbell, Shiloh Fernandez, Aldis Hodge. Danielle Macdonald, Hillary Baack, Patricia Clarkson, Jason Ritter, Julia Ormond
Sinopsis
Sarah Moss es una antigua agente del FBI que ha iniciado una nueva carrera profesional en Hiller Brood, una elitista e implacable agencia de investigación privada cuyo objetivo es salvaguardar los intereses de su clientela, compuesta principalmente por empresas de primera magnitud. Especialmente escogida para llevar a cabo una codiciada misión, Sarah adopta una falsa identidad con el fin de infiltrarse en The East, una escurridiza organización anarquista que pretende vengarse de grandes corporaciones a las que responsabiliza de servir de tapadera de actividades criminales. Decidida, perfectamente adiestrada y mujer de recursos, Sarah enseguida logra el beneplácito del grupo, venciendo sus sospechas iniciales y uniéndose a ellos en su siguiente acción de sabotaje. Pero al convivir estrechamente con los profundamente comprometidos miembros de The East, Sarah descubre que se siente dividida entre dos mundos cuando empieza a conectar con el líder y el resto de la organización.
Crítica

Puntuación
del crítico: 6

El trailer prometía una cinta más hardcore, pero se me ha hecho una cinta demasiado simplona. Como la sinopsis y el trailer ofrecían, es una cinta de denuncia social sobre las grandes corporaciones que atentan contra el medio ambiente sin importarles nada ni los daños causados para lograr sus fines económicos. Pero un grupo apodado 'The East', se han unido y luchan para que esto se acabe mediante "atentados" a estas empresas que las hacen pagar con su propia medicina. Para ello, dichas empresas andan a la caza de 'The East' contratando a agentes que se infiltren en el grupo y los paren.


La cinta intenta ser progre, y tiene un aire Indie, pero me temo que se queda en eso, ya que el guión tampoco está muy elaborado, la secta de 'The East' puedes llegar a entender su causa y te puedes unir a ellos, pero los han intentado hacer tan raros que parecen más una comuna de pirados haciendo que no empatices demasiado con ellos y sus "raras" técnicas de entretenimiento resultan un tanto absurdas y risibles. A parte que desde que comienza la cinta, ya sabes como va a acabar la cosa y por donde van a ir los tiros, todo es demasiado evidente y la secta logra de una manera demasiado fácil colarse en los eventos de las empresas para hacer sus protestas. Tampoco es muy entendible como viviendo de malas manera en una chabola de mala muerte logran estar limpios como una patena.


Los actores cumplen bastante bien, destacando a la protagonista Brit Marling, quien también participa como guionista, aunque su interpretación no es tan convincente como su debut en la curiosa cinta de ciencia-ficción 'Otra Tierra', en la que también participaba como guionista. También tenemos a secundarios tan interesantes como Ellen Page (Juno, Hard Candy, Super, Origen), a la que le encantan los personajes raros ya que con esa mirada tan triste que tiene le quedan como anillo al dedo; y al actor de la serie 'True Blood' Alexander Skarsgård que no lo hace mal.


Una cinta de buenas intenciones a la que le falta algo más de mala leche quedando más bien como un telefilm de la sobremesa. Una pena ya que podría haber llegado a mucho más.
o.O VoLdEmOrT O.o
Ficha de Película enviada por
Voldemort
el 18 de Julio de 2013
video
visitantes