Testificar!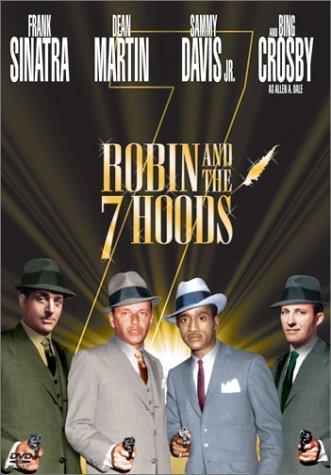 4 Gángsters de Chicago
Título original
Robin and the seven hood
Nacionalidad
Estados Unidos de América
Año
1964
Género
Musical
Formato
Color
Duración
124
Director
Gordon Douglas
Guión
David R. Schwartz
Fotografía
William H. Daniels
Música
Sammy Cahn (songs), Nelson Riddle yJimmy Van Heusen (songs)
Reparto
Frank Sinatra, Dean Martin, Bing Crosby, Sammy Davis Jr., Edward G. Robinson, Peter Falk, Victor Buono, Barbara Rush, Hank Henry, Sig Ruman
Sinopsis
Ambientada en el Chicago de la década de los 20, la historia comienza en la fiesta de cumpleaños de un mafioso de alta jerarquía, Big Jim (Edward G. Robinson) a quien disparan de muerte en la celebración. El ganster rival Guy Gisbourne (Peter Falk) se declara inmediatamente el Jefe. El grupo del norte, liderado por Robbo (Frank Sinatra) está de acuerdo con darle a Guy su título, mientras deje tranquilo el sector norte. Guy se niega y cuando el Pequeño John (Dean Martin) se une al grupo de Robbo, comienza una guerra entre ambas pandillas, resultando en la destrucción de los clubes nocturnos de ambos. Mientras tanto, la hija de Big Jim, Marian (Barbara Rush) le ofrece a Robbo $50.000 por encontrar al hombre que mató a su padre. Este dinero es aceptado, y finalmente, al pasar de mano en mano, va a parar a un orferinato, cuyo dueño, al enterarse de su procedencia, lo divulga. Así Robbo se convierte en una celebridad, y es conocido como «el Robin Hood de Chicago».
Crítica

Puntuación
del crítico: 9

Divertidisíma comedia musical protagonizada por el celébre Rat Pack. Canciones, balas y buenos gags componen este clásico. Sobrasalen y se bordan Peter Falk como Guy y Bing Crosby en su interpretación de Alan A. Dale.
Lo mejor de la película, las canciones y la música como no va a ser así?
Cabe destacar la pequeña participación de Edward G. Robinson, como el tacaño Big Jim.
En pocas palabras, es una divertida comedia, con un excelente ritmo y un guión interesante. Además cumple fielmente con su propósito de entretener. La actuación de estos grupo de lujo en conjunto también hace mucho por la historia escrita por David R. Schwartz.
Basada en el verdadero Robin Hood, este el de Chicago, nos muestras como serían las cosas si el pequeño Jhon no fuera tan fiel y Mariam no es tan dulce y buena.
Atención especial a la secuencia del musical "Testify".
Caye.-
Ficha de Película enviada por
Cayena
el 29 de Marzo de 2005
visitantes