Nuevo atentado cinematográfico de Uwe Boll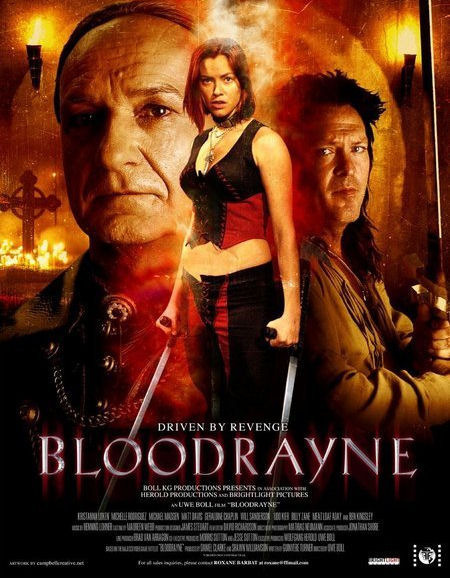 Sinopsis
BloodRayne es una Dhampir, mujer medio humana medio vampíro, que trabaja como agente para la Sociedad Brimstone, sociedad secreta que persigue y destruye las amenazas sobrenaturales.
Crítica

Puntuación
del crítico: 2

Abstenerse los que aun tienen la esperanza de comprobar que Uwe Boll no es tan mal director como dicen. Una vez más, este tipo vuelve a fracasar estrepitosamente (en la crítica) con una película más que mediocre. Al ver que en el reparto figuraban nombres conocidos pensé "quizás no sea tan mala". Fallo mío. La película sigue, por desgracia, la línea de los dos anteriores filmes de Boll, "House of dead" y "Alone in the Dark", mostrando un festival de planos sin sentido, de actores ridículos (por mucho que me cueste decirlo, ya que Ben Kingsley siempre me pareció bueno actuando) y de una acción que no sorprende en nada y que más bien da risa.

El guion es de todo menos inteligente, cualquiera con un mínimo de inteligencia podría haberlo escrito.
Aunque a algunos las películas de Uwe Boll les parezcan simpáticas, ya empiezan a cansar...
En resumen, bodrio mayúsculo de Uwe Boll, que ha vuelto a recibir pésimas críticas y que esperemos que no sea un éxito, ya que si esforzándose poco recibe tantos beneficios (como ya pasó con sus dos anteriores pelis, sobretodo "House of Dead"), es normal que a la próxima se esfuerce también lo mínimo...

Le doy un 2 por los destetes.

pdt:Resulta alarmante que muchos directores con mucho más prestigio que Uwe Boll(Darío Argento, por ejemplo) vean como sus pelis pasan directamente al mercado del Vídeo y DVD, mientras que los bodrios del alemán se emiten en miles de cines y encima tienen éxito...
Isaías
video
visitantes