Basada en un hecho real.....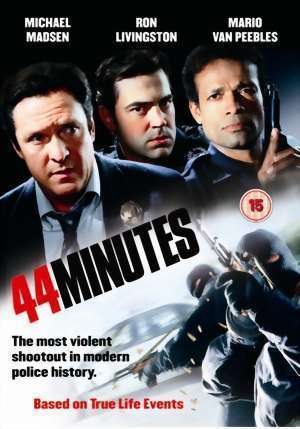 44 minutos de pánico
Título original
44 Minutes: The North Hollywood Shoot-Out
Nacionalidad
Estados Unidos de América
Año
2003
Género
Accion · Drama · Suspense
Formato
Color
Duración
103
Director
Yves Simoneau
Guión
Tim Metcalfe
Fotografía
David Franco
Música
George S. Clinton
Reparto
Michael Madsen, Ron Livingston, Ray Baker, Douglas Spain, Andrew Bryniarski, Oleg Taktarov, Clare Carey, Alex Meneses, Dale Dye, Katrina Law, Mario Van Peebles, Jullian Dulce Vida, Christopher Jacobs.
Sinopsis
Cuando dos hombres fuertemente armados, con rifles de asalto y armamento militar, intentan atracar el Bank of America de North Hollywood son acorralados por numerosas patrullas de policía, agentes del FBI, agentes del SWAT, y entre otros oficiales ,los 2 hombres lejos de retoceder continuan atacando con furia armados hasta los dientes con armas automaticas y con corazas blindadas , los agentes de las policias asi como las personas inocentes del lugar se veran envueltos durante 44 minutos en una pesadilla infernal.
Crítica

Puntuación
del crítico: 8

Basada en un hecho real ocurrido el 28 de febrero de 1997 en la ciudad de los Angeles , 2 hombres fuertemente armados provocaron lo que es considerado uno de los mayores tiroteos de la historia americana moderna y precisamente este hecho es retratado de forma mas o menos fiel a esta pelicula para television estrenada en el 2003 , el ritmo de la pelicula es perfecto y atrapa al espectador casi enseguida , quiza solo el principio previo a los hechos se haga un poco lento , pero una vez iniciado el robo , la accion y el suspenso no cesa hasta el final de la pelicula , destacan las muy buenas actuaciones de la mayoria del elenco como Michael Madsen y Mario Van Pebbles , cabe mencionar que la pelicula se rodo casi en forma de documental , con los personajes contando su version de los hechos , lo mejor para mi es la secuencia del tiroteo con los agentes del SWAT , tiene sus defectos e inconsistencias(recordemos que es una pelicula para television) pero la pelicula a mi gusto superior que varias producciones Hollywodenses y no les pide nada.
CHOOSE YOUR DESTINY
Ficha de Película enviada por
The Espectro
el 4 de Diciembre de 2008
visitantes