¡El alzamiento de la pantera!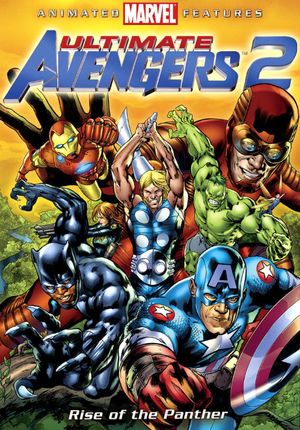 Ultimate Avengers 2
Título original
Ultimate Avengers 2: Rise of the Panther
Nacionalidad
Estados Unidos de América
Año
2006
Género
Accion · Animacion
Formato
Color
Duración
73
Director
Will Meugniot, Dick Sebast
Guión
Boyd Kirkland, Craig Kyle
Música
Guy Michelmore
Producción
Lions Gate Home Entertainment, Marvel
Distribuidora
Filmax
Reparto
Justin Gross, Marc Worden, Andre Ware, Grey DeLisle, Nolan North, Dave Boat, Olivia D'Abo, Fred Tatasciore, Michael Massee, Nan McNamara, Jim Ward
Sinopsis
Continúa la historia donde la dejaba el original: Pantera Negra, soberano de un misterioso reino africano, pedirá ayuda al Capitán América tras la muerte de su padre a manos de Kleiser, antiguo enemigo de los superhéroes, que está al mando de la invasión extraterrestre que amenaza la Tierra. Los Vengadores viajarán a África para librar una sangrienta batalla.
Crítica

Puntuación
del crítico: 7

No hay una sin dos. ¿O era dos sin tres? También, también. Y como parece que a Marvel le fue bien el experiemento con "Ultimate Avengers" (a nivel de publico y critica) comenzó a hacer peliculas de animación, a cada cual más buena, hasta el día de hoy (mientras escribo esto, la más nueva es "Tales of Asgard" donde se nos cuenta, entre otras cosas, la juventud de Thor y Loki). Pero su versión "light" de los Ultimates no podía dejarse sin una segunda parte que cerrase las tramas abiertas en la primera, como todo lo de los chitauri y aquí tenemos esa secuela.


La historia nos centra en Wakanda, donde manda el rey T´Chaka, que lleva el manto de la Pantera Negra, liderando así a la nación wakandiana, muy avanzada tecnologicamente y que rehuye su asociación con el mundo exterior. Todo explota cuando los chitauri, dirigidos por Kleiser (enemigo del Capi y que en la pelicula es una especie de supersoldado de la raza alienigena; buen giro de tuerca) pretende arrasar Wakanda para tomar todo el vibranium, metal muy extraño con el que sustentan practicamente toda su tecnología. La nueva Pantera Negra deberá recurrir a la ayuda de los Vengadores para poder salvar a su pueblo.


En principio, la pelicula mantiene la calidad de la primera, o eso, al menos, parece en los primeros minutos. Conforme la cosa avanza vemos que, aunque es buena, tiene unos puntos flacos que la hacen estar un paso por detras de su genial primera parte.

El primer detalla es la animación. Muy buena en ciertos puntos (la pelea entre Kleiser y T´Chaka) y, sorprendentemente mala, en otras escenas, de tal forma que canta demasiado cuando está mal. Es como si el filme estuviese descuidado en ciertas partes. ¿Las razones? Sólo sus realizadores las conocen, pero no da muy buenas sensaciones cuando la pelicula se pone en "modo malo", por llamarlo de alguna manera.


Otro pequeño defecto es la trama. Tiene ciertas partes donde flojea cosa mala, quedando bastante infantil e incluso demasiado simplona para los ratos en los que acierta o, para más inri, comparandola con la de la primera parte. Son momentos puntuales, pero que bajan mucho la calidad de la cinta. Y, recordemos, cómic no es sinonimo de infantil, ni mucho menos. En eso aún le queda mucho por mejorar a Marvel Studios.


Sin embargo, es lo único en lo que flojea el guión. Tenemos una buena cantidad de guiños para los comiqueros de Marvel (por ejemplo, la armadura de Maquina de Guerra), la pelicula conecta de forma perfecta con la anterior (casi parecen una sola o dos capitulos de una misma serie con una historia río) y además coge algunos puntitos del arco argumental de los chitauri en "The Ultimates" amén de introducir a la versión ultimatizada de Pantera Negra (diferente a la que luego saldría en los cómics ultimate y con curiosos e interesantes cambios). Además, la historia tiene el buen atino de que, al ser una segunda parte, los personajes no deben ya presentarse; las relaciones entre ellos están ahí, se respetan, se añaden más, se afianzan.


Por lo demás, tiene todos los buenos ingredientes de la primera entrega. Sus momentos violentos (la muerte de T´Chaka), acción a mansalva, buenos personajes relacionandose, muy comiquera, etc, etc. Perfecta, sobre todo, para los fans de Marvel Comics. Una segunda entrega más que digna.
The Stranger
Ficha de Película enviada por
The Stranger
el 10 de Septiembre de 2011
video
visitantes